Paul Loughran
Paul Loughran is an audio producer, videographer, communications specialist, live event producer and archive professional. He manages all commissioned productions for Near FM radio in Dublin. Specializing in audio documentary production, audio editing, live and studio sound production and archiving. Paul has produced award winning documentaries including Frank Harte: A life in Song and Healing Through Harmonies.  He is currently finishing an audio documentary on the legendary Dublin Jazz and Blues venue JJ Smiths
Ronan Kelly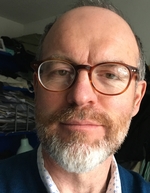 Ronan Kelly has worked in RTE since 1987.
Prior to that he worked in CNN, Channel 13 in New York and as a commercial video producer.He began in RTE TV as a presenter/reporter in health and environment programmes and then became a radio producer in 1990. He originally produced daytime Radio 1 programmes: "Gay Byrne Show", "Today with Pat Kenny", "Liveline", "Five Seven Live", "Marian Finucane". He also worked on new projects for RTE Radio: the computerisation of radio production and output (2000) and designing and launching the digital radio station, RTE Choice (now Radio 1 Extra) in 2007. He has taught feature radio production in Dublin City University and has been a guest lecturer in IT Tallaght, Griffith College, NUU, Coleraine, BBC Northern Ireland, Goldsmiths College, London and at the Salt Institute, Portland, Maine, USA.Since 2011, Ronan has worked full-time with "Documentary On One" including producing the short documentary series, "The Curious Ear" (now discontinued). Ronan has also worked with RTE television, recording voice-overs for TV documentaries and as a video journalist for 'Nationwide'
Enda M. Roche
Radio producer Enda M. Roche, founded Pearlman Media Productions Ltd in 2008. Since then she has had over 50 programmes funded by the BAI Sound & Vision scheme broadcast to date. Specialising in educational projects for both RTEjr and Near FM she has also made a number of documentary series for NEAR fm and Dublin City fm. These include the CRAOL Award winning 'A Life Line' 2 x 28 documentary series which focused on the Dom Savio Youth Club, which provides a vital social outlet for people residing in the area of North East Dublin with a variety of disabilities. Enda also made the hugely popular 'To the End of the Earth' 5 x 28 Historical Documentary series on the Irish Military Diaspora in South America and broadcast by Near FM Feb/March 2014. Most recently Pearlman Media Productions Ltd produced "From Byway to Highway" a 4 x 28 Historical Documentary series on the Hole-in-the-Wall Road, Donaghmede, Dublin 13. The company are currently working on 10 x 28 "Little Words Big Story" primary school educational series for Broadcast on Near FM in 2018.
Ciarán Murray
He has been working in media for over 20 years, currently as NEAR Media Co-op coordinator, and seven years manager of Near FM, and two years with Raidió na Life.  He has produced a wide variety of the radio programmes and has worked on a wide variety of Sound and Vision radio and television series including documentary, education, multi-cultural, sports, arts and drama during this time.   He has been involved in many European-wide media projects and is the former President of the Community Media Forum of Europe.
Mary-Elaine Tynan  
Mary-Elaine is a freelance journalist, radio producer and teacher/ lecturer who has a degree in  English/ French and a Masters in Literature and Drama from UCD., As a radio producer she has edited and produced award-winning radio documentaries for RTÉ  Radio 1 and television documentaries which have been shown in Australia and Africa.  Mary- Elaine has worked with RTÉ (Radio and Television), the Department of Education and the BAI to produce innovative, high quality classroom media literacy resources for Irish teachers and students. She was instrumental in creating an Education tab and the associated content (including instructional video) on the Doc on One website. Mary-Elaine works in syllabus development for the Department of Education
Joseph O'Connor
Joseph O'Connor is a business journalist and award-winning editor based in Dublin. When not writing about business, Joseph also reports on various international development stories for the Irish Times. Joseph has three times been a recipient of the Simon Cumbers Media Fund for which he has co-produced three radio documentaries for Near FM reporting from Tanzania, Palestine and Sri Lanka. Joseph holds a BA in Media from Wolverhampton University as well as an MA in International Relations from Dublin City University.
Gavin Byrne
Gavin is the fulltime IT coordinator with Near FM and has been working on sound recording in radio in a voluntary and professional capacity for 20 years. He has worked on audio production and editing for Near FM Sound and Vision radio dramas Shakespeare in Dublin, The Last Resort, Shopping for Beginners, Rivitin History 1-6, Lost Easter Voices, Malachi's Madrigals, Brian Boru, Dante's Domain, Tales from the Northside, The Kay Farrell Trilogy, Drama on the Northside and Rising Heat Trilogy. He has also performed sound and post production duties on a number of funded documentary series including most recently Irelands Oceans and Book Worms. He was also the sound technician on a unique live drama performance 'A Woman, A Dog and a Walnut Tree' by Dennis Byrne. (Which was widely praised in the national media) He has produced and presented the popular podcasts Scibernia, ArcadeandRetro.com and Board Games Ireland.
Elaine King
Elaine is the Community Television Coordinator in Neartv. This includes training community groups in television production and media literacy and facilitating the production of programmes for and by local community groups for DCTV.  Elaine teaches as part of the Broadcast Journalism degree with Colaiste Dhulaigh, which includes sessions on documentary production for radio and podcast. She is the current Chair of the CTA, Community Television Association. Elaine has Produced a number of television series funded by the BAI Sound and Vision Scheme, including More Than a Rose Festival (2 x 120 mins), a one hour Documentary the Viking Festival, Science Investigator, a 10 x 10 minute Education Series with Primary Schools, and Control Yourself a media Literacy series on stereotypes produced by teenagers. She has worked with the European Anti-Poverty Network (EAPN) and as production manager and producer of entertainment programmes for TG4 & RTE.
Dorothee Meyer-Holtkamp
Dorothee is the Outreach Coordinator of Near Media Co-op and works with other community originations to join forces with Near FM and Near TV.  Her outreach work includes liaising with new volunteers and partners, coordinating outside broadcasts, designing and delivering training in radio production and media literacy skills. Dorothee also gives media training to groups on how to get your message across. Dorothee has produced a number of radio series funded by the BAI Sound and Vision Scheme including the children's series Exploring with Tom Crean and Bookworms as well as several broadcasts from St Anne's Park, community gardens and events in the area including The Rose Festival, Outside with Near, Radio Jeanie Johnston and Summer in the suburbs.  Dorothee has BA in European Development Studies from UCC and an MA in Intercultural Studies from DCU.
Dorothee is originally from the countryside in Northern Germany, wanted to stay in Ireland for a year and never left. She loves her bike and all things to do with food 🙂